After almost two months, finally the PyCon APAC 2014 videos have been released! (actually it has been uploaded two weeks ago)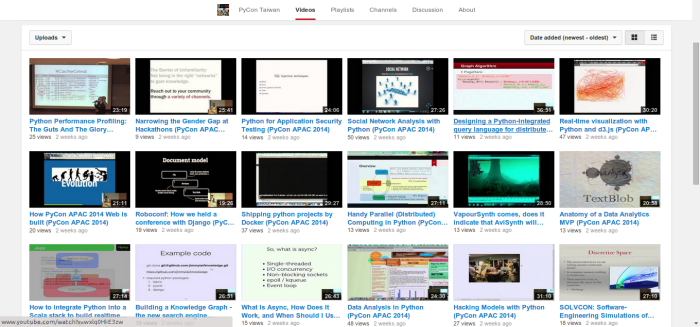 It was my first PyCon and also it was my first time experience speaking at PyCon. I shared my experience on using Python to perform application security testing.
However I still couldn't find the keynote speaker videos available online. Tracks that I attended and already available online are: A. Jesse Jiryu Davis talk, Social Network Analysis with Python, Statistics in Python with R. I remembered I was sitting in front of R3 room at A. Jesse Jiryu Davis's talk hence there were so many attendess. That's why I could take a great shot from where I sat.
The attendees during @jessejiryudavis talk #pyconapac2014 pic.twitter.com/WfvXXHVAPJ

— za (@zakiakhmad) 19 Mei 2014
It's very nice to meet so many people who share the same interest. It was a very great experience for me, for being one in six-hundreds Pythonistas. Even, the Taiwan Pythonistas are very kind and generous. Jack Tsai allowed me to stay at his place for one night in Hsinchu by the time I arrived at Taiwan Taoyuan International Airport.
I believe in a circle. We must be in a right circle to help us improve our self. That's why I try consistently organizing a bimonthly Python Indonesia meetup. We haven't had six-hundreds Pythonistas yet. Having our own PyCon Indonesia sure it's still a long way to go. But we believe with this small meetup it will make a difference in the future, as long we can keep it consistent.
Last words. Sure, I realize still need to learn and practice more about Python. And … thank you for the PyCon APAC 2014 organizer for organizing such a great events. Thank you Jack Tsai for the hospitality. Thank you Tzer-jen Wei for taking me to Hualien and have rafting at Xiuguluan River. Thank you Fernando Perez and Andreas Klockner for a wonderful time spent with.
comments powered by

Disqus